Peace, family! Welcome to The Tea! We've been celebrating Black Futures all month long!
We are excited to culminate this celebratory time with this issue.
Over the years, we have seen a shift in how we talk about Black folks during Black Futures Month— a visionary, forward-looking spin on celebrations of Blackness in February. Honoring our past is still as important as ever, but we also want to acknowledge the present and future of Black transgender, gender-nonconforming, intersex, and queer (TGNCIQ*) folks. This is especially important because our communities are often the most vulnerable, and our futures are cut short due to systemic sexism, racism, and transphobia
Our collective beliefs and manifestations for the future are key to our lives and liberation. Black Futures Month is our way of creating space to vision. We honor our TGNCIQ ancestors, by living fully and shaping the world how we want it to be, so that we can all be safe and liberated.
During Black Futures Month and always, we center Black, queer, and transfeminist perspectives. Black queer and trans people have long been at the forefront of dreaming, visioning, and expanding what is possible for our movements. It is our duty to affirm, celebrate, and defend all Black lives.
*Inspired by Miss Major and Make the Road Foundation.



In this issue, we are uplifting our TGNCIQ ecosystem members in Minneapolis, introducing you to an innovative and experimental arts and culture collective in New York City, sharing the story of a Black queer woman who needs our support, and putting you on to What We Are Vibin' To this month!
Just like last month, we really want to hear from you! Every month, we slide in your inbox with news from our ecosystem, honoring our TGNCIQ heroes, sharing what we've been vibin' to, and more—but we'd like to get to know more about what you wanna see when you open The Tea. Throughout this issue, there are a few questions to get you thinking about what you want to read and learn in The Tea. Share your feedback, and let's keep building the Black Future we are all dreaming of.

---

Early this month, we lost another one of our young people to police terror. Amir Locke, 22 years old, was killed in his home while sleeping (just like Breonna Taylor). Police entered his home without knocking (read about no-knock warrants here), and Amir attempted to protect himself with the gun he legally owned. Another fatal shooting at the hands of MPD has sparked protests in Minneapolis and all over the country.
Last year, Black Visions organized an opportunity for the people of Minneapolis to vote for a vision of public safety that works for everyone, not just some, and nearly half of Minneapolis voted "yes!" Although the measure did not pass by a small margin, the outcome illustrated a strong desire for change.
Our folks on the ground at Black Visions are organizing and leading campaigns that will significantly reduce policing in the near future and create new systems to keep us safe. Black Visions is led and sustained by Black TGNCIQ organizers. Throughout our history, Black TGNCIQ folks have been thought leaders, strategists, organizers, and healers. Due to homophobia and transphobia, they're hardly recognized for their contributions to our collective freedom.
So, we are giving flowers to folks while they are still here by highlighting TGNCIQ members and staff from Black Visions in Minneapolis, who are doing the work to liberate all Black people.
Black Visions "believes in a future where all Black people have autonomy, safety is community-led, and we are in the right relationship within our ecosystems." They are a "Black-led, Queer and Trans centering organization whose mission is to organize powerful, connected Black communities and dismantle systems of violence."
Click here to read about their values and campaigns, and to find out how you can support their work. Below, we are highlighting one of their members, but be sure to check out our IG and Twitter to learn more about the other folks we are uplifting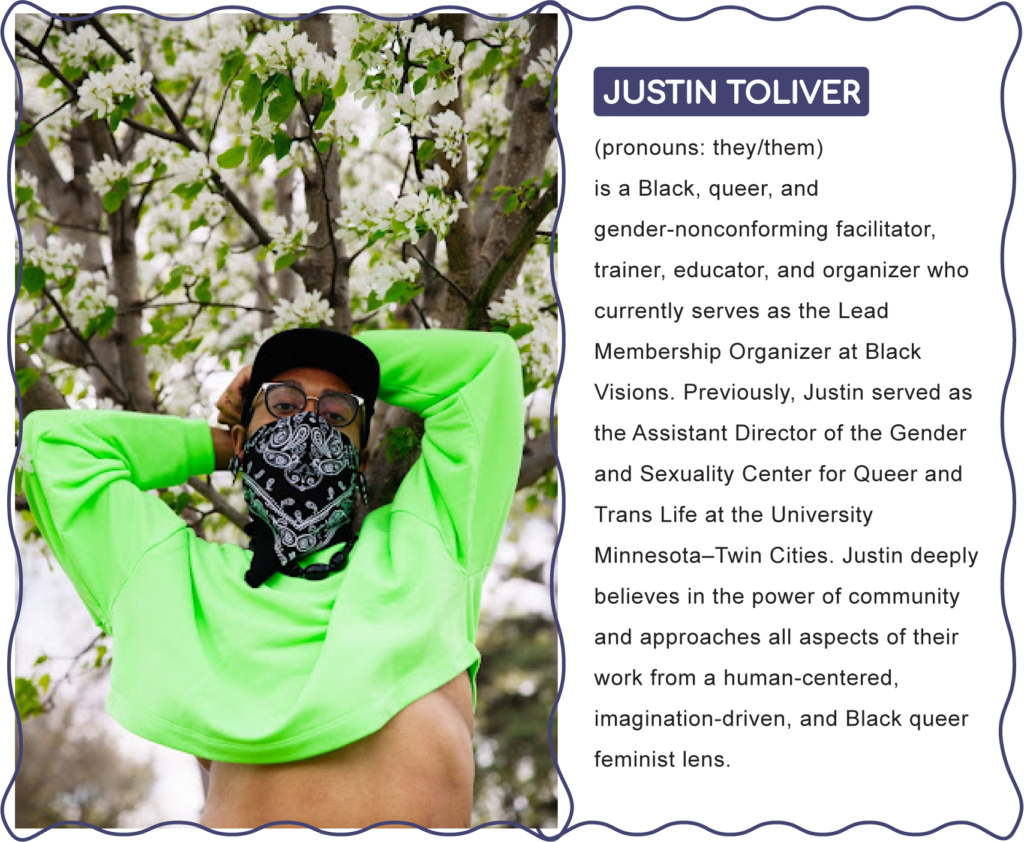 We talked to Justin about themself and the future of Black TGNCIQ folks, and this is what they had to say:
All of us are magic. What's your superpower?
My superpower is the ability to make anyone feel seen and honored in a room full of people. I am a builder of authentic relationships and connections. Many describe it as an energy that manifests into feeling.
How does your identity inform your organizing work?
As a Black, queer, and trans person in this world, my identities shape how I navigate everything, including organizing. I find much power in Black history, which is inherently Black queer and trans history. We have been organizing in every moment and movement, although our power has been intentionally erased from the narrative. I am always thinking about how we center Black queer and trans people in our Black liberation work because we experience multiple layers of oppression on a daily basis. We wake up every day creating the world we know is possible because we choose our power. We choose our truth. We choose our future and have ample space for anyone who desires to be in that future alongside us.
What is your greatest hope for our Black queer and trans futures?
My biggest hope for Black, queer, trans futures is that one day not only will Black trans women be able to walk down the street without constant fear for their lives—they will be walking in whatever reality they dreamed for themselves. No matter if it's a job, house, or medical care, etc. I am manifesting a world where our access to our desires are no longer dreams, but realities.
It's the year 5000 and all the Black queer and trans folks dipped from Earth and found a habitable planet to live on. What are you bringing to the Black queer space farm?
I am bringing a commitment to joy, celebration, and connection. We'll have an annual holiday where we celebrate our liberation through music, dance, art, performance, food, and a lot of twerking.
---
Who are some amazing folks in the TGNCIQ community that you'd like to see featured in The Tea? Living or Ancestors. Well-known or Unsung.

---

In October 2018, Kenyairra Gadson was imprisoned for two years for first-degree reckless homicide for protecting herself from a man who'd been harassing her for years, and a group of his friends. Despite her strong case for self-defense, the Madison, Wisconsin, carceral system has recently decided that Kenyairra, a queer Black woman fearing for her safety, was a murderer rather than a survivor of a hate crime and patriarchal violence.
Movement for Black Lives and Freedom, Inc. stand proudly in defense of Black women fighting back to protect themselves from assault, harassment, and violence. As we continue to build people power locally, we are calling on our community to help amplify Kenyairra's story.


Share her story! Share this newsletter, share the documentary, and boost this on your social media with #JUSTICE4KENYAIRRA or #FREEKENYAIRRA.
Help us bring Kenyairra home! Follow Freedom, Inc. to stay connected and learn more.
---
Who are some amazing folks in the TGNCIQ community that you'd like to see featured in The Tea? Living or Ancestors. Well-known or Unsung.

---

We asked the founder of one of our favorite queer radical and experimental collectives about what Black Futures Month means to them. Meet Imani Dennison, and learn about the Black science fiction collective.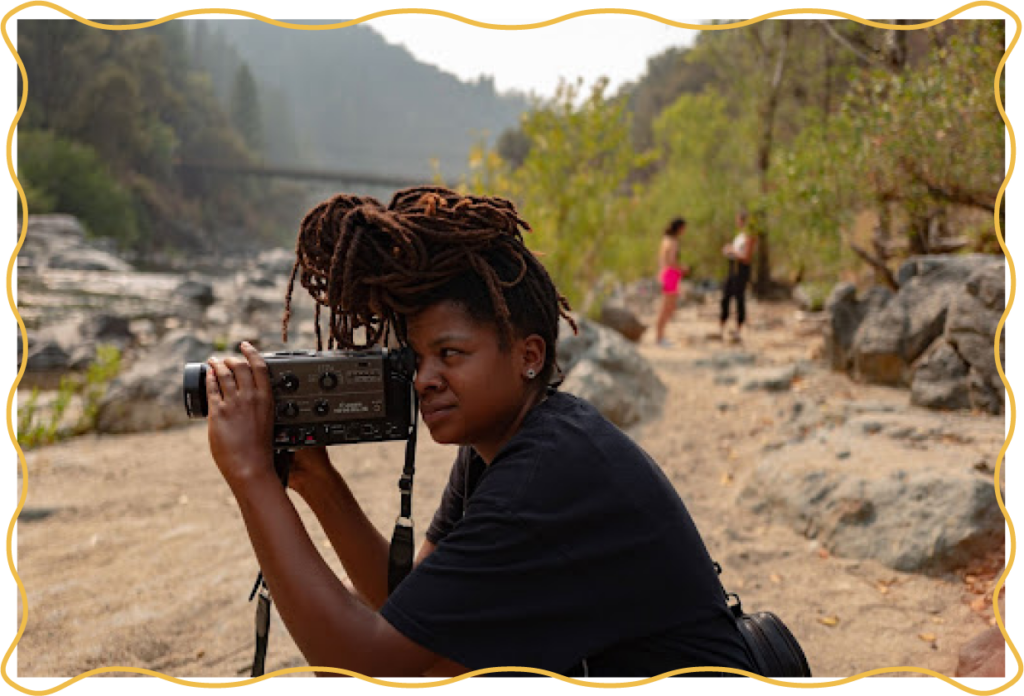 Imani Dennison, (pronouns: she/they), is an experimental documentary filmmaker and director of photography based in Brooklyn, NY. Imani graduated from Howard University, where she studied political science and photography. Imani's work interrogates stories of Black people in the South and the African diaspora, usually centered in folklore, fantasy, and oral histories. Imani's most recent film, They Say the People Can Skate, is a documentary told through the reminiscence and reflection of Black Louisville residents' recollection of roller-skating culture in Louisville, Kentucky. Imani co-directed For Our Girls, a love letter to Black daughters—acknowledging the sacred, and at times, tense relationship mothers and daughters share as they face challenges and accept each other's flaws. The film went on to receive major distribution in the U.S. Imani has also created commissioned documentary works for PBS, Black Tag, ITVS, and For Africans. Imani's first film, Garden of Eden, premiered at the Cannes Film Festival in 2016.
What is Black science fiction? And what do ya'll do?
Black science fiction (BSF) is a creative collective based in New York that hosts sound experiences, screenings and workshops. Black science fiction is most interested rooting itself in hood futurism, Black speculative thought, Ghetto Surrealism, Black Intimacy, Black Southern Gothic, African space travel, and Queer futurism. BSF hosts a community of musicians who are pushing the boundaries of music and how we experience it. We are the home of all things magic.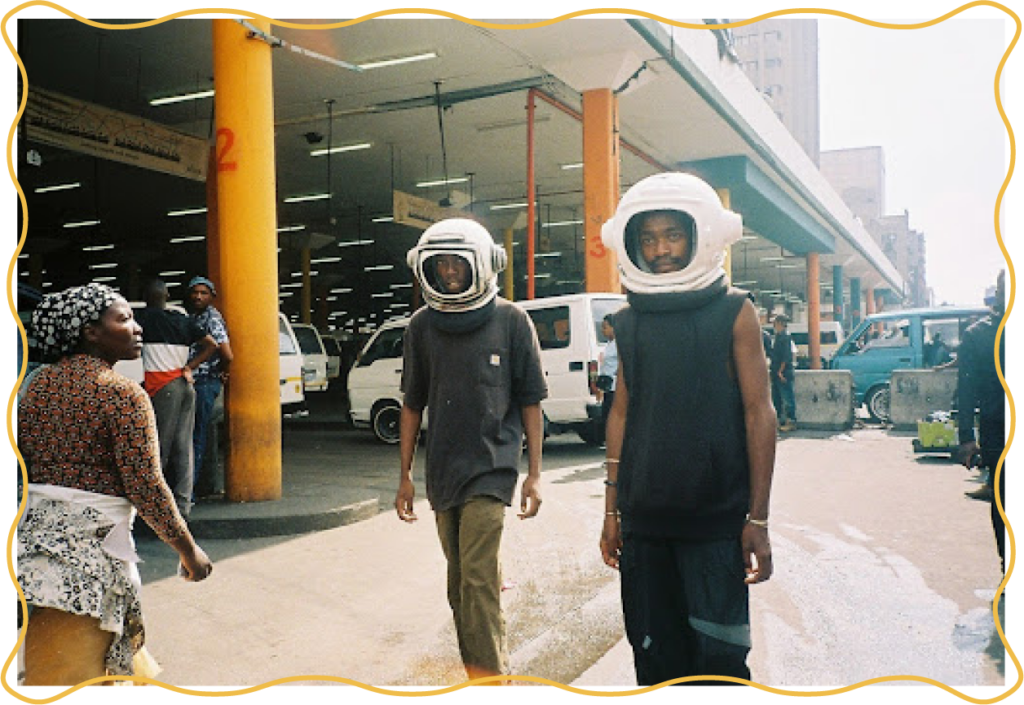 Y'all did some incredible programming this month. Tell us about it.
We just hosted a month-long series of workshops, performances, screenings, talks, and wellness sessions. We kicked off the month with a land offering presented by Willie the Genius and a playlist swap curated by the good folks at Wavmakers. We started a Black Futurist book club focusing this month on Black Futures by Jenna Wortham and Kimberly Drew, who donated books for us to collectively enjoy. We had a lovely hour-long meditation session with Anaka AKTIV8 and Laraaji that was live-streamed and stored on our website archive. Austen Smith and Gabe Tomlin hosted a Black Genders from the Future workshop that was a huge success. We hosted film screenings from filmmakers such as Chelsea Odufu, Ajay Ram, and Rraine Hanson, and a series of films commissioned by Healing the Black Body.
We had so many amazing things to name, like movement workshops from Amina Ibrahim and Angel Edwards. To celebrate Black Southern food culture, trent of the holding space hosted a virtual Black Future Brunch that doubled as a cooking class. We had a zine workshop by Neta Bomani, and workshops that surround love, intimacy, and magic from Helen Pena, Toluwanimi Obiwole, and Kalyn Jacobs. And we closed the month with another ancestral offering by Jupiter June and Jessi Jumanji. There were so many amazing programs to name, so you'd just have to go to our lovely website designed by Osgood Obodo and see for yourself.
To stay connected, follow the BSF socials and mailing list.
@black_science_fiction_
https://blacksciencefiction.space/
https://soundcloud.com/blacksciencefiction

---

This is What We Are Vibin' To this month! Check out these dope queer and TGNCI folks from our community who are doing amazing things.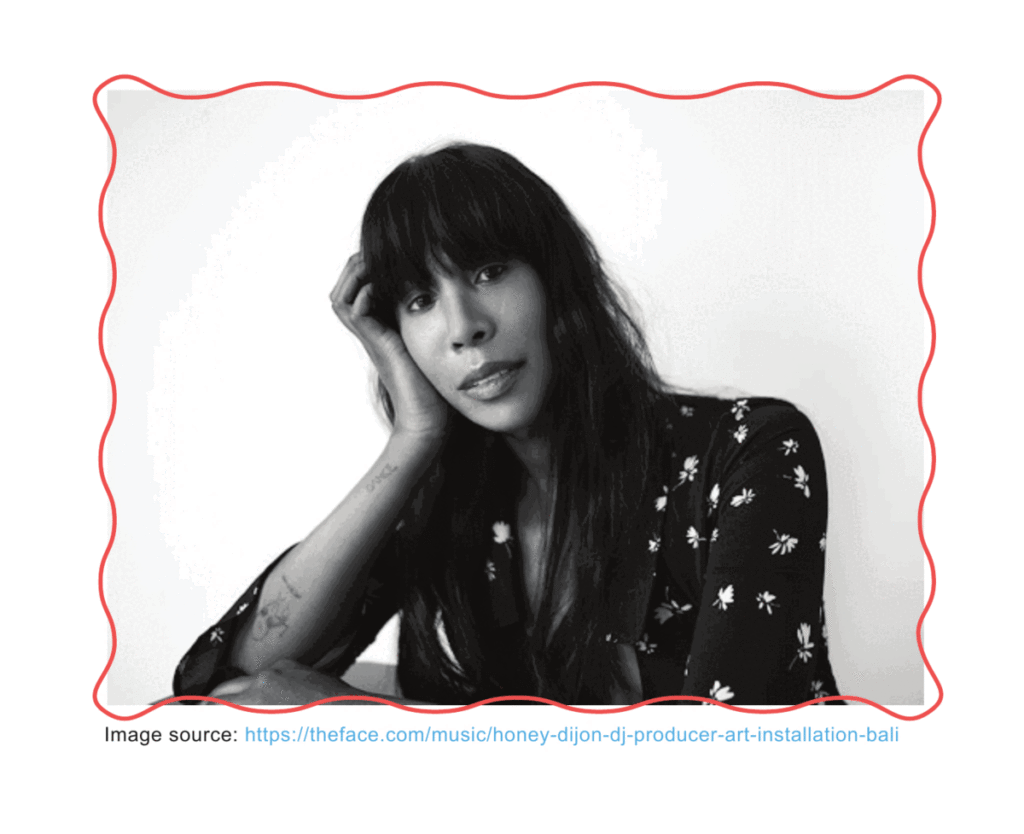 Honey Dijon is an international DJ, producer, and designer. Honey is also an activist who shares her experiences as a trans Black woman to advocate for the upliftment and recognition of more Black queer creatives, as well as greater opportunities for them.
Honey recently released her new single "Work" as a part of her forthcoming LP, Black Girl Magic. A line in the single tells us to "believe you deserve all the things you see for yourself and more," which we are holding close to our hearts as we imagine and create Black TGNCIQ Futures this month and always.
Instagram: @honeydijon
"Ella Baker Shaker" is a high-energy tribute to the 1960s civil-rights organizer Ella Baker and features Jonathon Lykes of the Black Joy Experience and the Queen of New Orleans Bounce herself, Big Freedia. The tribute is an original Bounce track dedicated to joy, freedom, and ancestral lineage. The song and video tell the story of Ella Baker, whose legacy continues to encourage us to dream up new worlds. Ella Baker said, "We who believe in freedom cannot rest until it comes."
We hope this song encourages a generation of youth to become Ella Baker Shakers who shake up systemic barriers and fight for justice and freedom.
Watch here! And check out the newly released Black Joy Experience Mixtape: Comrade, Vol. 2, streaming on all platforms!

"What We Lose When We Erase Queer Black History"
"I didn't know they were gay!" As a Black queer woman, I'm constantly stumbling upon slightly cracked doors that lead to Black queer life. I cherish every time an ancestor reveals themselves to me." —Amber J. Phillips, for Refinery 29
Click to read the full article here.
---
What have you been vibin' to this month? Let us know which Black TGNCIQ artists, books, movies, shows, etc., you have been feeling this month! We might feature them in future issues and credit you!