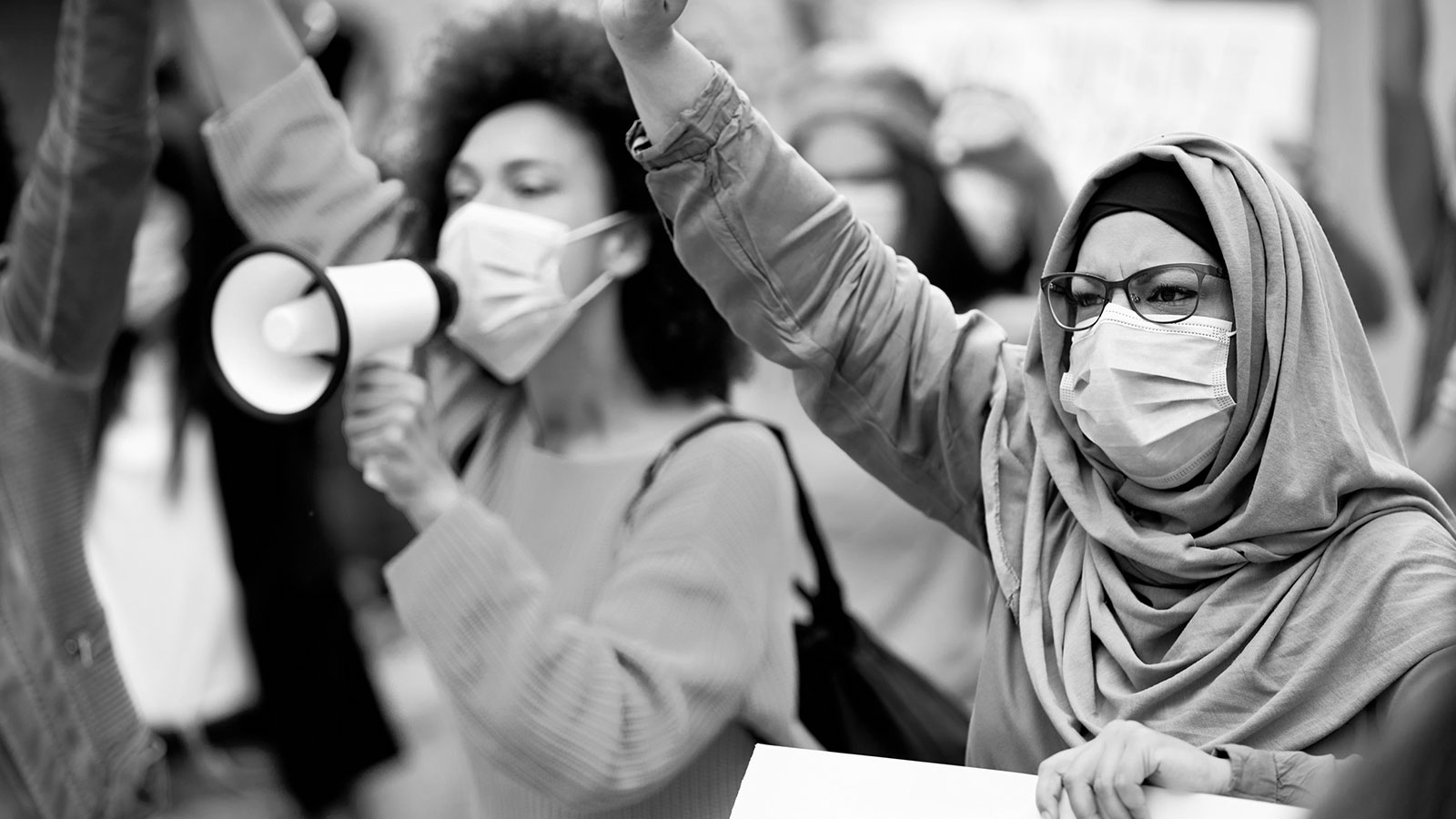 STATEMENTS
Justice Tastes Better Than Complicity: Ben & Jerry's must now end all business with apartheid Israel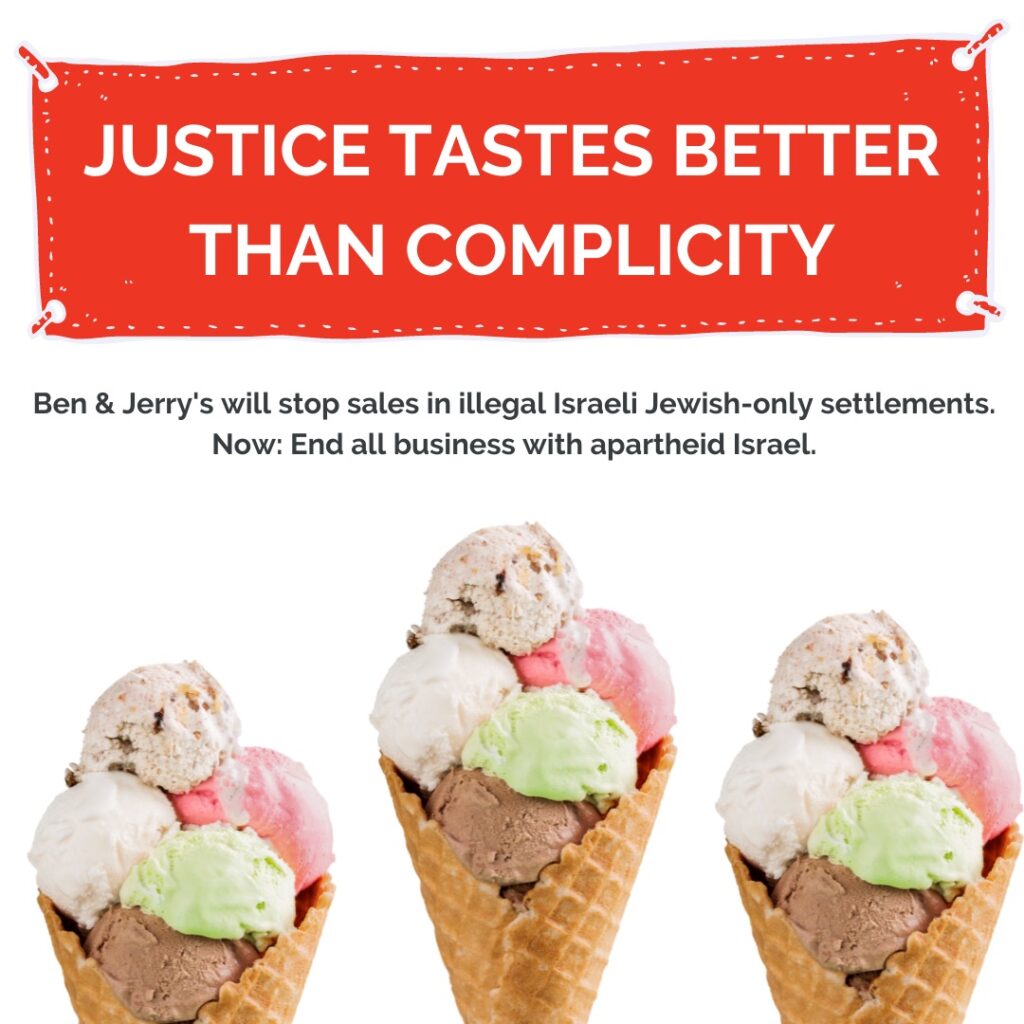 WASHINGTON, DC, July 21, 2021—Thanks to the impact of growing grassroots movements supporting Palestinian rights, Ben & Jerry's has announced their decision to stop selling ice cream in illegal Israeli Jewish-only settlements on stolen Palestinian land, and the company will not renew its agreement with its Israeli licensee when it expires in December 2022.
"We believe it is inconsistent with our values for Ben & Jerry's ice cream to be sold in the Occupied Palestinian Territory (OPT)," the Ben & Jerry's statement read. "We also hear and recognize the concerns shared with us by our fans and trusted partners."
However, as many supporters of Palestinian rights called out on social media and elsewhere, the statement also said that Ben & Jerry's "will stay in Israel through a different arrangement." The parent company Unilever made this addition without the approval of the Ben & Jerry's board. The board stated the addition does not reflect their position, and that by publishing this statement without approval, "Unilever and its CEO at Ben & Jerry's are in violation of the spirit and the letter of the acquisition agreement."
As the board's chair Anuradha Mittal told NBC News, "They [Unilever] are trying to destroy the soul of the company. We want this company to be led by values and not be dictated by the parent company."
Our response: We welcome Ben & Jerry's decision to stop sales in illegal Israeli Jewish-only settlements, and we call on Unilever to align with the Ben & Jerry's board to end all business with apartheid Israel. Until then, the boycott continues.
Vermonters for Justice in Palestine, who've led a 10-year boycott campaign, called out Ben & Jerry's for failing to meet their three demands and remaining complicit in Israeli occupation. As the momentum for Palestinian liberation builds, this is the time to keep pushing for Ben & Jerry's and all corporations to stand on the right side of history.
We share two important points:
This announcement is a significant partial victory and step forward, signaling a massive, hard-fought narrative shift toward Palestinian liberation in the U.S. Boycott, divestment, and sanctions (BDS) tactics work. BDS is a time-honored, effective, and increasingly popular method for change, which creates economic pressure to achieve freedom, justice, and equality for the Palestinian people. After a 10-year campaign led by Vermonters for Justice in Palestine (VTJP), and the pivotal advocacy of the Movement for Black Lives, this growing grassroots pressure forced Ben & Jerry's to take a stand. This is how we weaken oppressive power structures, how we create change and shift narratives, and why we keep pushing.
The unwavering fight for justice isn't over. The boycott continues until Ben & Jerry's ends all business with apartheid Israel. The Israeli state can't be separated from its apartheid and military occupation. Ben & Jerry's must now fully commit to standing on the right side of history by completely ending its complicity in Israel's separate-and-unequal apartheid regime.
"For Ben & Jerry's to fully commit to justice, there must be no scoops left behind under apartheid," said Ahmad Abuznaid, the executive director of the US Campaign for Palestinian Rights. "Until there are none, we are not done."
Ben & Jerry's professes to run its business according to its progressive core values and social mission, saying "we use ice cream to change the world." Progressives believe all people deserve to live freely and safely, and therefore any commitment to progressive values must include the liberation of the Palestinian people. No exceptions.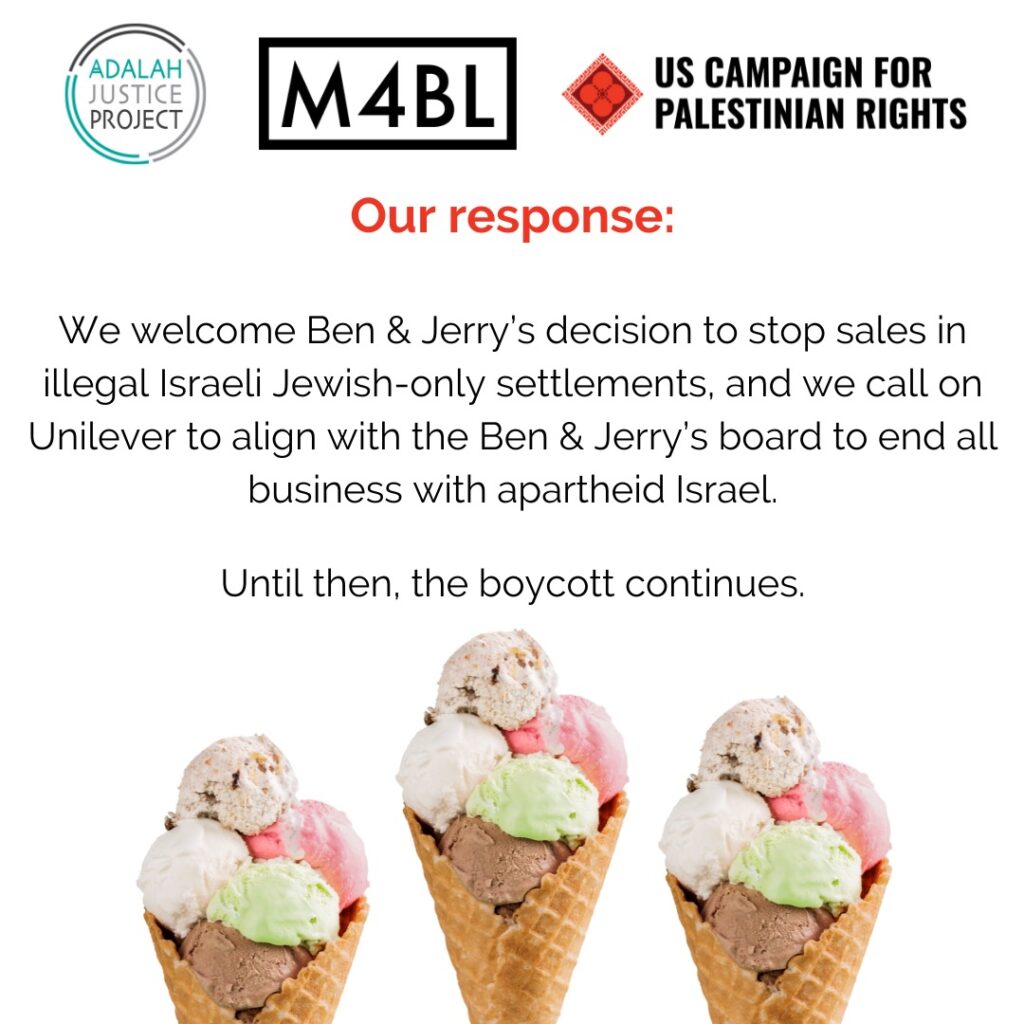 The Movement for Black Lives made the final push to pressure Ben & Jerry's to support Palestinian rights, in keeping with their Vision for Black Lives policy agenda, which recognizes "our shared struggle with all oppressed people: collective liberation will be a product of all of our work." Their advocacy was a powerful illustration of Black-Palestinian solidarity, just as the Black and Palestinian liberation movements have supported each other for decades.
"The decision by Ben and Jerry's may be our most important BDS win to date," said Sandra Tamari, executive director of Adalah Justice Project. "It opens the door for other mainstream companies to heed the Palestinian call for cutting ties with the Israeli state. The over-the-top response by Israeli leaders to the company's announcement, including threats to compel U.S. states to apply unconstitutional state laws limiting boycotts against Israel, shows that immaterial victories such as these can make a vast empire tremble, and that is the power of organizing."
"The Movement for Black Lives supports and defends the unobstructed freedom and self-determination of the Palestinian people," said Montague Simmons, Director of Strategic Partnerships for Movement for Black Lives. "Black and Palestinian organizers have long worked hand-in-hand to eradicate repressive regimes and policies in both Palestine and the United States. Ben and Jerry's withdrawing sales on Occupied Palestinian Territory is a step in that direction, yet insufficient. We believe it is important to acknowledge that the small attempts at fixes don't override the bigger context of apartheid, settler colonialism and military occupation. We continue to demand an end to human rights abuses, settler colonialism and U.S. investments in the occupation of Palestine and the apartheid state. "
This breakthrough illustrates the rapidly growing support for Palestinian rights in the U.S., and the necessity of a U.S. policy that reflects this. A recent Data for Progress poll found that 72% of U.S. Democratic voters support H.R. 2590, the Palestinian Children and Families Act, compared to only 13% of House Democrats who've cosponsored the bill. The people support Palestinian rights, and it's far past time for every corporation, representative, and institution to get on board.
Organizations: Adalah Justice Project, Movement for Black Lives, US Campaign for Palestinian Rights
###
About Adalah Justice Project
Adalah Justice Project is a Palestinian advocacy organization that builds on the foundational belief that no one is free until everyone is free. We operate at both the grassroots and congressional levels, and we bridge between the US and across Palestine to build unity and vision. We provide analysis of both historic and current, unfolding events in Palestine, and demonstrate how Palestine intersects with other social justice issues in the U.S. and across the globe to build cross-movement solidarity.

About the Movement for Black Lives
The Movement for Black Lives is a national network of more than 150 leaders and organizations creating a broad political home for Black people to learn, organize and take action. M4BL includes activists, organizers, academics, lawyers, educators, health workers, artists and more, all unified in a radical vision for Black liberation and working for equity, justice and healing.
About the US Campaign for Palestinian RightsThe US Campaign for Palestinian Rights (USCPR) is a national network of activists and organizations who are committed to freedom, justice, and equality for the Palestinian people and who work to end U.S. complicity in their oppression. USCPR is a political home for all who believe that freedom for the Palestinian people is an integral part of achieving our collective liberation. USCPR provides resources and strategic support to the U.S.-based Palestine solidarity movement, channeling grassroots power into positive change in U.S. policy and public opinion. USCPR works with local organizers and activists, policymakers, movement leaders, media, and advocacy organizations to advance a rights-based, accountability and justice-oriented framework from the U.S. to Palestine.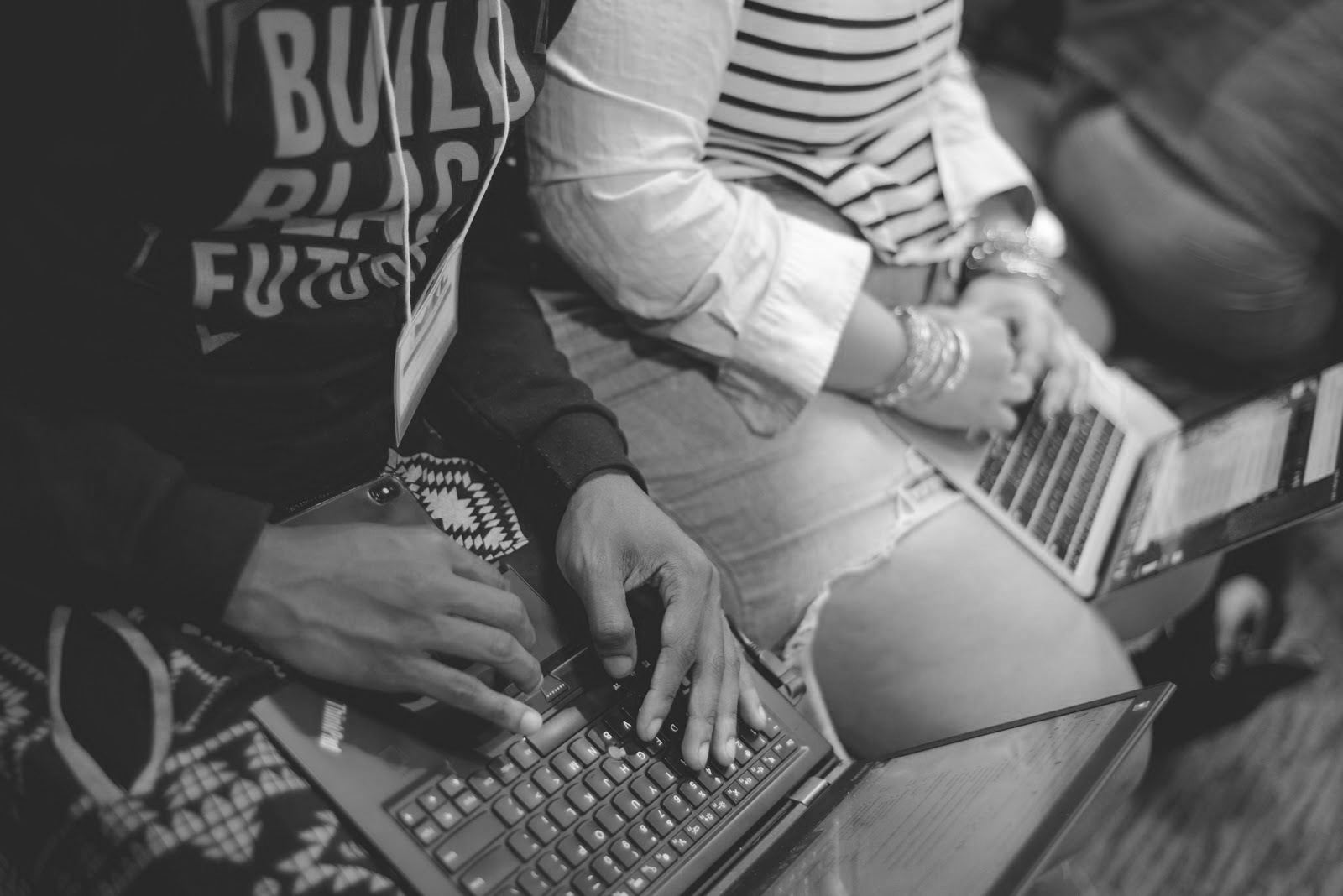 DONATE
If you are called to join us, have an opportunity for aligned funding streams, or wish to make a personal gift, please contact development@m4bl.org to connect.

The Movement for Black Lives is a fiscally sponsored 501c3 at The Common Counsel Foundation.