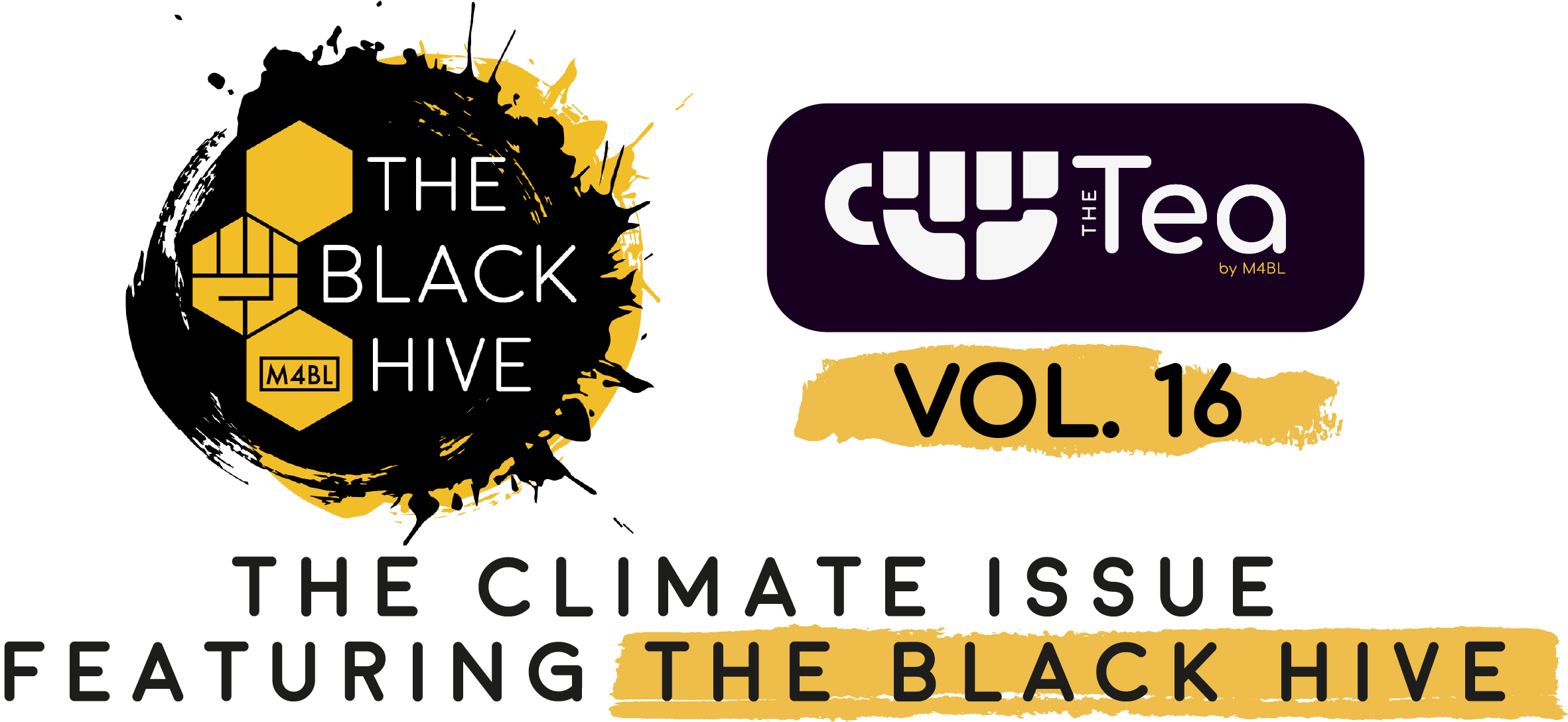 Peace, family! Welcome back to The Tea! This month, we collaborated with our ecosystem family, the Black Hive, to bring you a very special issue in honor of Earth Day. The Black Hive exists to convene Black climate and environmental justice (CEJ) leaders, so they can invest in equitable climate solutions and alternatives that center on the concerns of Black communities and that protect Black lives. The Black Hive is at the heart of the Movement for Black Lives (M4BL) climate and environmental justice efforts. They are a cohort of Black CEJ experts who use their collective experience and knowledge to assess how climate change and ecological destruction impact Black communities in the U.S. and across the Global Black Diaspora. Together, they organize for cleaner, better, and safer futures for Black lives.

For this edition of The Tea, we asked the Black Hive to uplift the queer and trans members leading on climate work and to shed light on how climate change is a Black queer issue! In this issue, you'll hear directly from members and learn about how you can be involved in the fight for climate justice for all Black folks! Special shout-out to Aya de Leon, who curated and introduced the issue below!
Read on, family!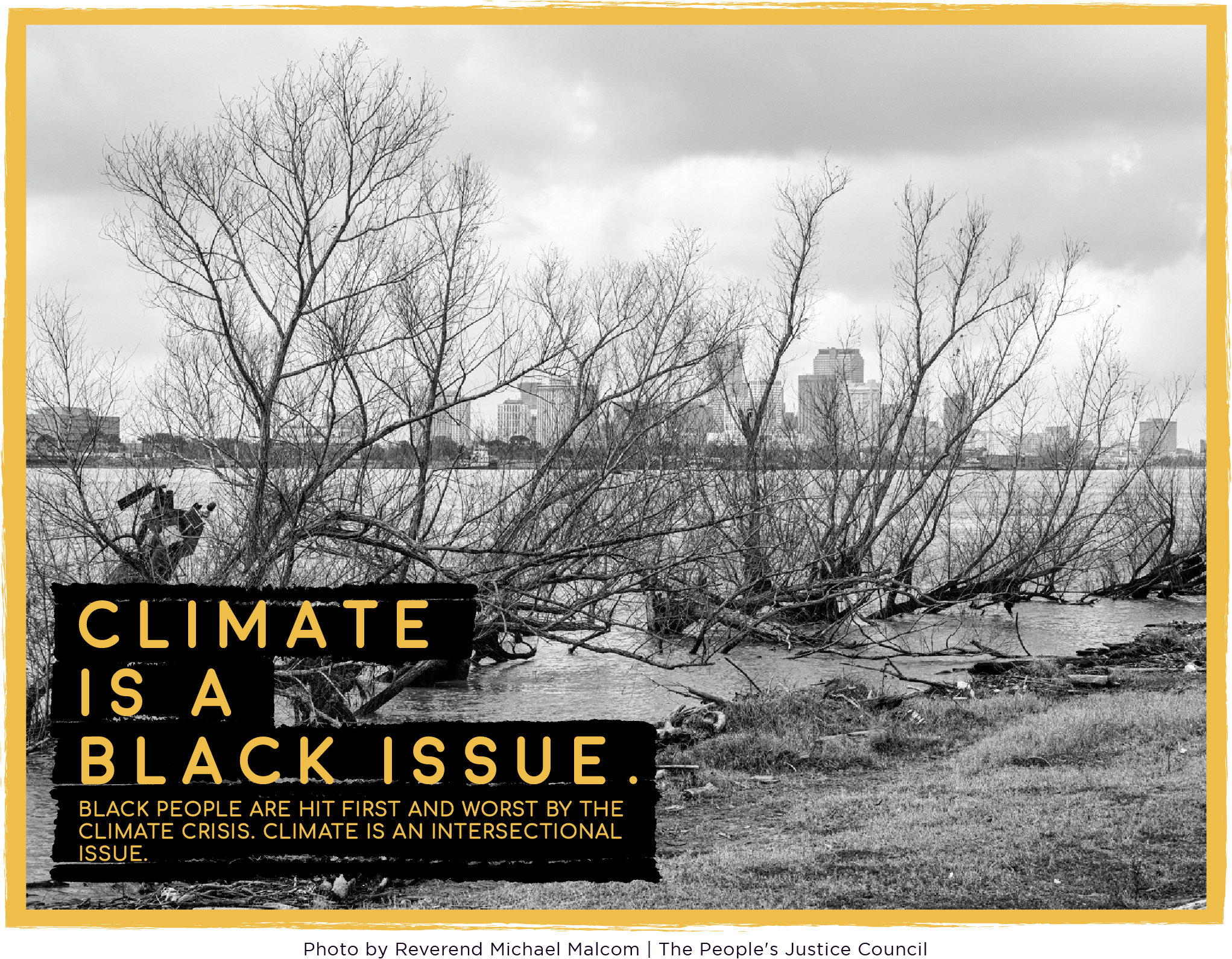 This year, only seven states have not introduced or are not expected to introduce anti-queer or trans legislation at the state level. When queer and trans or nonbinary individuals, families, young people, and communities are under attack, folks must build carefully crafted lives with layers of safety and support, access to culturally competent resources, and gender-affirming health care. But when climate-crisis disasters strike, they upend the carefully built webs of support, safety, and access to resources that communities so carefully erect. In addition to the threat from the disaster itself and the racism that affects all Black people, Black queer people are further vulnerable to isolation, anti-queer and trans violence, and lack of access to gender-affirming health care. Climate justice is justice for Black people. Climate justice is also justice for LGBTQ+ people.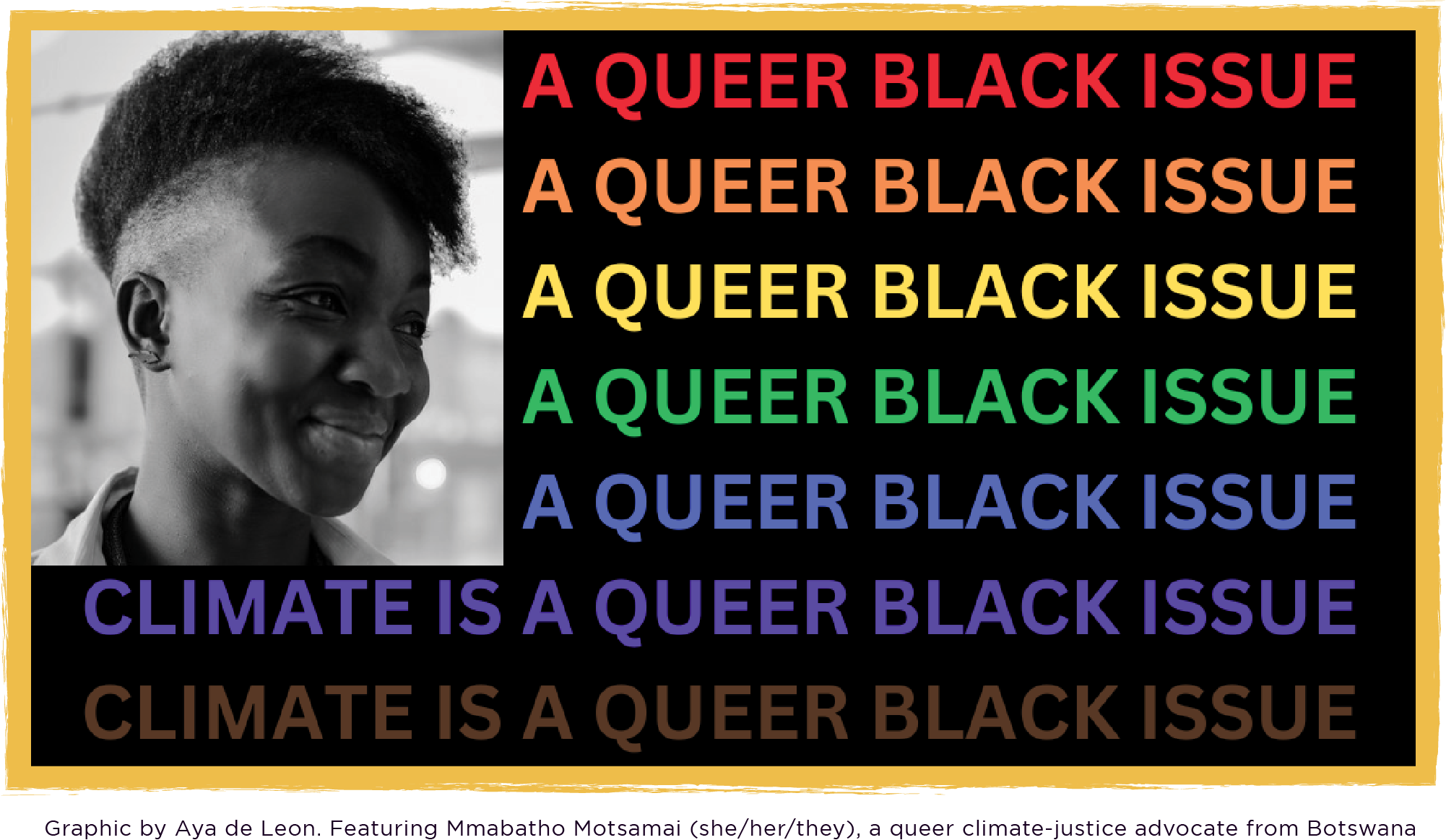 In our ongoing fight toward a world of justice, thriving, and joy for all Black people, and our understanding that this vision must fully include and meet the needs of our queer, trans, and nonbinary folks, we can see that—as always—climate is a threat multiplier for all the oppressive systems that come for Black LGBTQ+ folks every day.
Yet Black queer people have profound experience in building communities of resistance: radical, flexible, inclusive communities that are exactly what our planet needs moving forward.



Co-Founder of The Palm Collective
Black Hive Communications Team Member
Your story: What brought you to climate and environmental justice (CEJ), and what role do Blackness and queerness play?
I'm a Black, queer Singla mama raising my courageously bold five-year-old Black daughter in America. My enduring life journey led me to be Luna Isabella's mother, I have no doubt about it. Her radical love is the reason I know we will win, because she deserves a healing planet to be on, fully and authentically, as herself. She will feel safe and secure in her tomorrows, and not fearful of what's to come.
My experience in the Education field and my honored role as Luna Isabella's mother have guided me to my work in climate and environmental justice. I worked as a special-education teacher and founding school leader for ten years before co-founding The Palm Collective with Kevin Cramer, my student from the first class I ever taught. We have stayed connected as mentor/mentee since 2011, ever since I was his eighth-grade teacher.
I realized along my activism and organizer journey, spanning nearly two decades, that the most important issue we as Black queer folks must be invested in is the future of this planet and support of youth to help us radically love the planet and our humanity into healing. My personal compass, as a super Aquarius air sign, always guided me to the frontlines of injustices. In my ongoing fight for educational equity as a special-education teacher and founding school leader, I lost more than 25 beloved students to gun violence and murder by the police. We as community members lost sons, daughters, and beacons of light. This is why I believe in #DefundThePolice. In my ongoing fight for racial justice and Black liberation on the frontlines following the George Floyd uprisings, I poured myself into collective-action organizing, training development, and building strategic-planning spaces for multi-generational base-building. This led me into my cross-movement work in supporting organizations and communities in their fights for reproductive justice, Land Back, climate justice, international LGBTQIA+ rights, and so many more across this globe.
How do you see CEJ at the intersection of Black liberation and queer liberation?
"It is our duty to fight for our freedom"—this Assata Shakur quote and powerful chant is a guiding light. Marsha P. Johnson often shared that the Power of the People is how we change what is needed in this world for our queer lives to fucking matter. For me, our brilliant Black radical queer joy and love has always lived at the intersection of Black liberation and queer liberation, which empowered us to build communities of care, creatively celebrate one another, and keep us safe. This loving tradition of sustainable fighting for all we believe in on the journey to Black and queer liberation pours into the CEJ fights naturally—as it is an embodiment of our will to BELIEVE THAT WE WILL WIN.
How do you see CEJ fitting into the Black radical tradition?
The Black radical tradition always focuses on community-building and education. The breakfast programs and teaching our youth the true history of our world was at the forefront of the Black Radical Tradition in ensuring we keep us safe as we reimagine and build for us, by us. Getting our community needs met collectively is safety to our spirits and our bodies. Teaching our communities about the true history of the world and how we have been impacted as a people is knowledge that frees us from repeating an unjust history—it's freedom.
Our CEJ fights live on the shoulders of the Black radical tradition of rooting in education and community-building—through resource distribution for our most vulnerable communities to the climate crisis; to learning to heal and till the land through our collective works; to teaching the history of the connection between the destructive impact of capitalism and all the injustices we face, especially the killing of our planet. Our Black CEJ fight's evolution to become radically reliant on ourselves as resources become limited and systems collapse must rely on the lessons learned from the Black radical tradition to ensure that WE KEEP US SAFE.
June Jordan talked about "love as resistance." How do you see CEJ in the queer tradition of love as resistance?
Radical love and joy are essential in every fight led by our most oppressed communities. The weight of targeted hate and the creation of a society grounded in values that dehumanize people to commodify people is a painful world to see and be a part of. "Love as resistance" is the core value that has upheld movements across the ages. When we fight for our rights while seeing our communities being debilitatingly restricted, and our Black people hunted by police state–sanctioned violence and centuries of global anti-Blackness and the commodification of our loved ones/ancestors—the love and joy we create for ourselves, by ourselves, is the fuel that powers us to create the futures we deserve. Even when the whole world has been molded, by design, to extinguish our flames of hope and change, our radical love and joy remind us of our limitless possibilities.
Please tell us about your CEJ work, both inside and outside of the Black Hive.
Within the Black Hive, I have supported both the Political Education and Communications tables. Our powerful collective energies of Black Hive members does CEJ work across the world within different focuses—from policy development, to resource distribution, to political-education awareness, to creating sustainable communities through reconnecting to the land. We envision utilizing the Black Climate Mandate to drastically engage, support, and empower our Black folks to fight for our planet, communities, and spirits.
Outside of the Hive, I support the development of numerous organizational trainings, conferences, and media projects to highlight community stories, actualize community-led campaigns, and educate/engage our youth in their roles and power in CEJ work. I believe Generations Z and Alpha, within this age of Aquarius, will drastically evolve our CEJ work because they clearly see the intersections of all the injustices against Black folks, rooted in CEJ. Sustainable fashion trends and arts creation, purposeful swap spaces, and cross-movement and community fights are just a few of the loving ways I've seen youth powerfully create the change we need in the CEJ spaces with the goal of healing our planet.
Anything else you would like to add?
Would love to connect with beloveds in CEJ fights globally that are rooted in the values of Black queer feminism. Email me at beth@thepalmcollective.org or text me at 202-455-6795. Let's connect, reimagine, and build a just and healed planet deserving of ourselves and future generations to come, rooted in radical love and joy.


Follow Raya on IG as @ClimateAuntie and on Twitter as @rayasalter


Narrative Power & Communications Lead, Black Hive
Follow Devin on Twitter and IG as @DevinMurphyDTM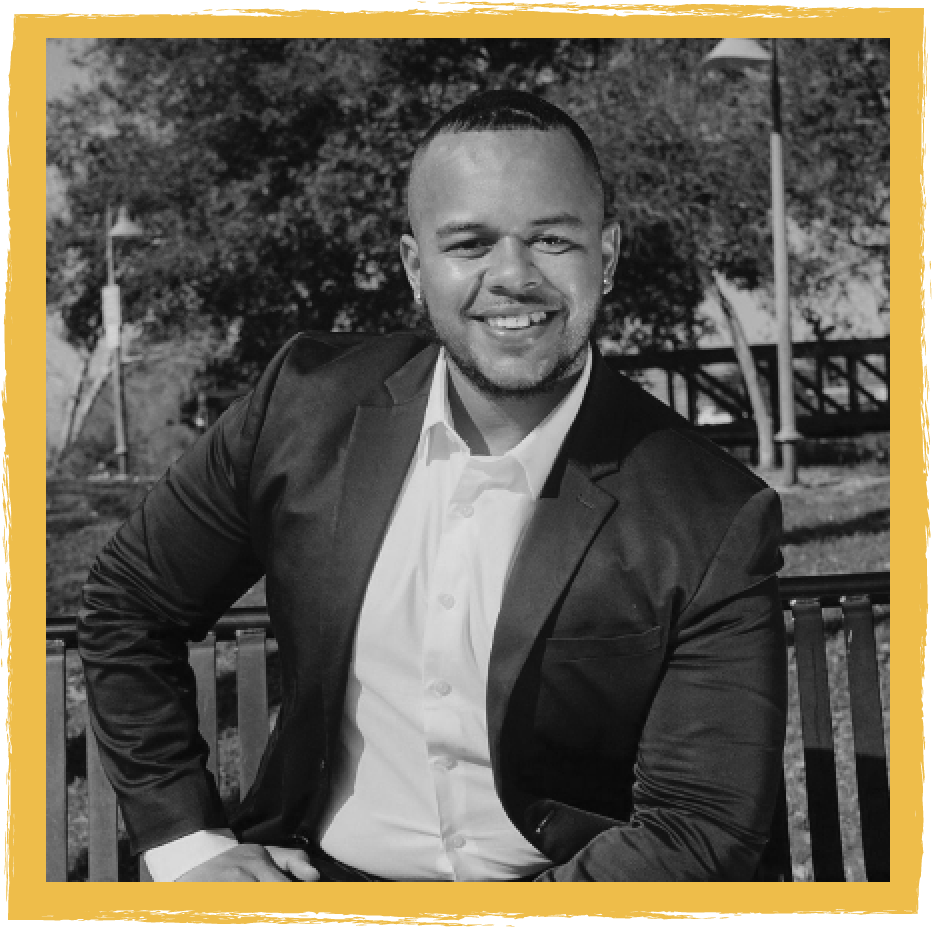 Your story: What brought you to climate and environmental justice (CEJ), and what role do Blackness and queerness play?
I'm the product of a mother who is a social worker. I was also born and raised in San Francisco's Bayview-Hunter's Point neighborhood. Bayview is home to concrete plants (a concrete plant is a plant that handles animal waste), data centers powered by large diesel generators, a wastewater treatment plant that treats over 80 percent of the city's sewage, and dozens of abandoned toxic waste sites. One of them, the Hunters Point Naval Shipyard, is a federally designated Superfund hazardous waste site. When folks hear San Francisco, they usually hear stories of a utopian LGBTQ-friendly international city. While all that may be true, I lived in a very different San Francisco. I watched my mother as she worked through college at San Francisco State University raising four young Black men, and as she sought to improve the quality of life of Black and Brown communities in San Francisco dealing with the impacts of over-policing, housing displacement, and toxic waste; all of this made me the man I am today.
How do you see CEJ at the intersection of Black liberation and queer liberation?
When I think of the intersection of Black liberation and queer liberation, one word comes to mind: power. Those of us working at this intersection are building influence and power for systemic change. As people who are engaged in multiple movements, we are moving the work of environmental and climate justice through the influence of ideas and strategies. This work is critical to the liberation of Black people and all people.
How do you see CEJ fitting into the Black radical tradition?
It's important that we understand the cultural practices and traditions of our ancestors and elders as we seek liberation in the system of racial capitalism known as the United States of America.
June Jordan talked about "love as resistance." How do you see CEJ in the queer tradition of love as resistance?
When I think of our Black LGBTQ+ elders and ancestors—Audre Lorde, James Baldwin, Marsha P. Johnson, and so many more—I am reminded of the strong love they shared with us and the values they f-ed with: accountability, self-determination, purpose, integrity, and courage. I see climate and environmental justice moving in alignment with these values, as we set our own pathway to urgently combat the climate crisis and its deep impact on Black communities globally. As Black queer leaders in this movement, we often hold much on our shoulders as justice warriors at the intersections of racism, sexism, white supremacy, homophobia, and transphobia. I see the power of our love as critical to building our movement and holding to account those who continue to abuse and destroy our planet and its inhabitants without regard for the land, water, air, and Mother Nature.
Please tell us about your CEJ work, both inside and outside of the Black Hive.
I am honored and proud to support the strategic communications and digital organizing efforts of the Black Hive. When I'm not helping build this plane, I have the honor of serving as Mayor of my city of Pinole, California—in fact, I'm the first Black mayor in its 120-year history. With a population of 21,000, Pinole is the sixth most diverse city in California. I work to catalyze opportunities in my city by increasing public engagement; enhancing our parks and outdoor spaces; and keeping Pinole a safe, livable, resilient, and prosperous city for all. Since being elected, I have championed a more transparent, citywide participatory-budgeting process, small-business growth, and progress on regional climate action.
Anything else you would like to add?
The Black Hive is doing dope shit, and we're just getting started. If you're still reading this, I encourage you to join us.


For those of us who live at the shoreline standing upon the constant edges of decision
[…]
For those of us
who were imprinted with fear
[…]
when we speak we are afraid our words will not be heard
nor welcomed
but when we are silent we are still afraid
So it is better to speak remembering
we were never meant to survive

Check out this playlist by Ayana Albertini-Fleurant Black Hive member and founder of Sustain The Culture a culture lab and community hub that focuses on building critical mass engagement for Black environmental concerns by organizing at the intersection of Black culture and our environment.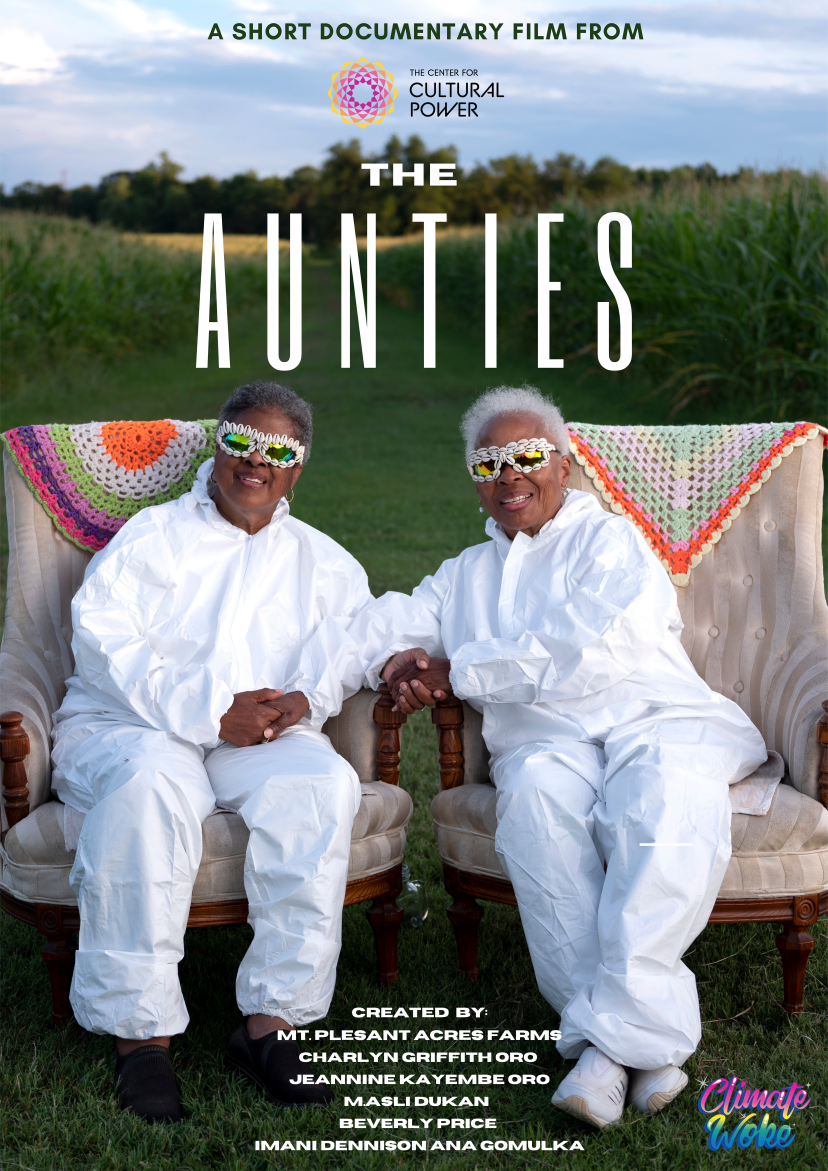 The Aunties: From the North Star to the Poplar shares the story and lived experiences of Black land stewards and culture bearers Paulette Greene and Donna Dear, and the legacies of Harriet Tubman and Mt. Pleasant Acres Farms. The intention of this film is to inspire QTBIPOC (queer, trans, Black, indigenous, and people of color) communities in the climate-justice field to continue their work and to bring those witnessing on the sidelines into climate action and activism. Co-directed by Jeannine Kayembe-Oro (she/her) and Charlyn Griffith Oro (they/them). Executive produced by the Center For Cultural Power (@culturestrike).