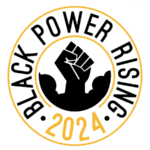 WHAT WE DO
The Movement for Black Lives is an ecosystem of individuals and organizations creating a shared vision and policy agenda to win rights, recognition, and resources for Black people. In doing so, the movement makes it possible for us, and therefore everyone, to live healthy and fruitful lives.
Our movement is driven by leadership anchored to six tables: Policy Demands, Organizing & Base Building, Electoral Justice Project, The Rising Majority, and Culture & Resource.

Our movement's structure is decentralized yet cohesive. Each table is part of this multifunctional, highly adaptive hub, and is responsible for a different strategy and programming that feeds into our larger long-term visions.
Policy Demands for Black Power, Freedom, & Justice articulates M4BLs vision of a fundamentally different world, while also making policy recommendations to address the material conditions of Black people.
ORGANIZING & BASE BUILDING
The Organizing & Base Building squad moves local organizing and builds national campaigns such as the Black Mama's Bail Out, Say Her Name, and Freedom Summer. We will invest in Black governance, communities, and grassroots organizing in communities across the South and the rest of the U.S. The squad epuips emerging and seasoned movement leaders with the skills, resources, and tools necessary to nurture and strengthen Black-led spaces in service of self-determination, innovation, creation, leadership, and joy.

ELECTORAL JUSTICE PROJECT
The Electoral Justice Project marshals a cross-issue, transnational Black electoral-justice movement by building a network of local organizers and partners.
The Rising Majority is a multiracial coalition that seeks to develop a collective strategy and shared practice that involves labor, youth, abolition, immigrant rights, climate justice, feminist, anti-war/anti-imperialist, and economic-justice forces in order to amplify our collective power and to build alignment across our movements. Together, we are building a powerful left for radical democracy.

We are organizers, artists, communicators, musicians, storytellers, and cultural workers who collectively build creative initiatives and innovative tools to help build a world in which ALL Black people can thrive. We bolster offline movement building through cultural innovations, narrative, and performance means. We also build our own digital tools and platforms that protect the safety and security of our people.